Skytop's Zipline Course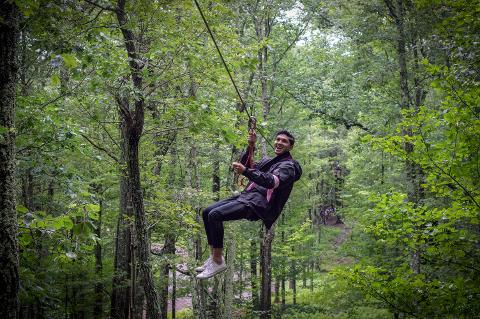 Durata: 45 Minuti (circa)
Codice prodotto: PDFTEZ
For the thrill of speed and altitude, visit The Adventure Center at Skytop Lodge,
the pinnacle of action and adventure in the Poconos. Treat yourself to our 7 zip-line course. See how exhilarating life can be.

30 feet off the ground. With 7 different zip lines this 30 to 60 minute adventure is sure to be an experience to
remember!

This is an approximately 1 hour zipline only course.

All Zipline participants are required to arrive no later than 15 minutes before
their scheduled departure time or risk losing their time slot, all departures are prompt.

We will do our best to re-schedule late arrivals but make no guarantees.

All Zipline participants must be at least 10 years old.Children under the
age of 16 must be accompanied by an adult on the course

All Zipline participants must have an overhead reach of 5'11".


All Zipline participants must weigh less than 275 lbs, have a waist size of
less than 42" inches, and have a thigh size less than 26" inches.

All participants must be in good health.

A 24hour cancellation policy is in effect, cancellations of less than 24 hours
are subject to full payment.

We go rain or shine, unless there is thunder and lightning at our location.

All Treetop participants will be required to sign a waiver.

All Treetop participants will need to wear closed toed shoes and must have long
hair tied back for the duration of the treetop course.